A time of active meditation outdoors in the spiritual tradition of the Camino de Santiago, Spain. This is a mini pilgrimage - a time to pause, reflect and be still.
What you'll need: the instructions below, chalk (optional)
Time: 30 - 60 minutes
Location: this mini camino is based at Limestone Park, Ipswich. However, you could modify the instructions to suit any large open space. Let us know in the feedback section below if you have a suggestion for another location.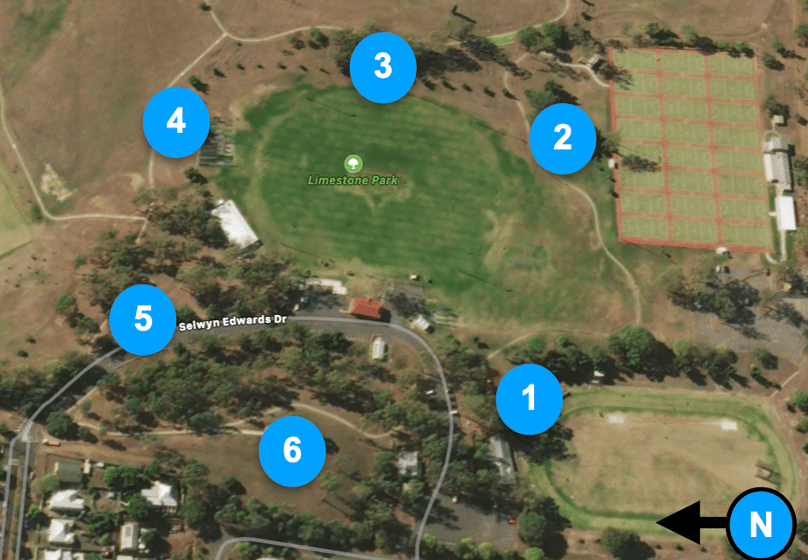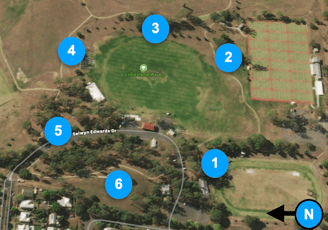 Map: start at the shelter next to the lower clubhouse and follow anti-clockwise, stopping at the six stations. Follow the path. You will start and finish at the central carpark.
guide
Take as much time as you need at each station. Don't rush, and use the short walk between stations to quietly still your mind. It is suggested that you turn the notifications on your phone off.
Station 1, Shelter near clubhouse: Start by sitting at the bench. Focus on your breathing. Still your mind. When you're ready, move slowly between each of the four posts of the shelter. At each one, pause and thank God for a blessing in your life.
Station 2, Trees on the slope beside the netball courts: Pray slowly through the Lord's Prayer found in Matthew 6:9-13.
Station 3, Trees on the slope overlooking AFL oval: Read through Luke 8:22-25 and ponder something in your life that you could trust God with.
Station 4, Slope near cricket nets: Think about a short, encouraging message you could leave for others- write it on the path with chalk. Alternatively, send an encouraging text message to a friend.
Station 5, Slope near drink tap: Take a drink or splash your face with water. Read John 7: 37-39. Sit in stillness and reflect on the words.
Station 6, Shelter at the top of the hill: Look out over Ipswich. Say a prayer for the people of this city.
As you walk back to the start, consider if there's something you felt prompted to do in response to your time at the stations. Decide on how you'll make time to be still in your life in the coming weeks.
Our Father in heaven, may your name be kept holy. May your Kingdom come soon. May your will be done on earth, as it is in heaven. Give us today the food we need, and forgive us our sins, as we have forgiven those who sin against us. And don't let us yield to temptation, but rescue us from the evil one.
Mathew 6:9-13
A fierce storm came down on the lake. The boat was filling with water, and they were in real danger. The disciples went and woke him up, shouting, "Master, Master, we're going to drown!" When Jesus woke up, he rebuked the wind and the raging waves. Suddenly the storm stopped and all was calm. Then he asked them, "Where is your faith?" The disciples were terrified and amazed. "Who is this man?" they asked each other. "When he gives a command, even the wind and waves obey him!"
Luke 8:23-25
Jesus stood and said in a loud voice, "Let anyone who is thirsty come to me and drink. Whoever believes in me, as Scripture has said, rivers of living water will flow from within them."
John 7:37-38
we'd love to hear if you complete this trail!
Let us know about your experience, reflections or feedback! Or let us know your suggestions for where to set up another mini camino.